ABOUT US

FLORIDA MEDICAL MALPRACTICE ATTORNEYS – PATIENT SAFETY ATTORNEYS
McMillen Law Firm handles malpractice cases throughout Florida and Georgia, and on occasion in other states if major injuries are involved.   Although we have recovered many millions of dollars for our clients over the years, unlike other law firms, we do not like to boast about individual verdicts or settlements we obtain. What we are most proud of is that every case we bring is about more than obtaining compensation for our clients. While fair compensation is very important, the lawyers at McMillen Law Firm are motivated by a higher calling, and we will only represent clients who are also motivated by the same higher calling. That higher calling is to bring cases which will result in improvements in overall patient safety.
By pursuing malpractices cases we can bring about changes in dangerous healthcare systems and practices, and protect many future patients from similar harms.  Money we recover certainly helps our clients cope with the harms and losses they have sustained. But more importantly for our clients, bringing the case also helps insure that the incident hurt them or their loved one has an important meaning beyond just what happened to an individual patient.  When we represent clients who understand this, the money recovery will normally be there, but it is the knowledge that they have also made a difference in the lives of other patients that gives our clients peace and helps them reach true closure on their own personal tragedy.
If you are searching for the right lawyers for your case and you are motivated by similar aspirations, a consultation with us is always free.   If we accept your case our attorney fees are contingent on a successful outcome. We will not ask you for a cost deposit and we advance all expenses of your case. If there is no recovery you owe us nothing for attorney fees or expenses.
Please understand we are very selective in the cases we take, and currently we turn down approximately 300 cases offered to us for every one case we accept. That is primarily because we are looking for cases that have an impact.  Not necessarily a high dollar impact, but a high impact on patient safety. The lawyers at McMillen Law Firm are patient safety attorneys, and we are very proud of that.
SCOTT R. MCMILLEN – SENIOR MALPRACTICE TRIAL ATTORNEY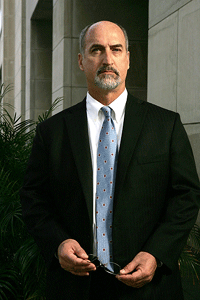 Our founder and senior trial lawyer, Scott R. McMillen, has been successfully handling medical malpractice cases for 34 years. He started his legal career as a hospital attorney, but for the last 27 years he has been exclusively representing patients and their families. He received his Doctor of Law degree from Emory University in 1979 and his B.S. in 1976 from Florida State University, majoring in Government. He has been licensed to practice law in Florida since 1980, and in Georgia since 1979.
MARTINDALE-HUBBELL HIGHEST LAWYER RATING
Martindale-Hubbell is the oldest lawyer rating service and directory in the world, having first been published in the 1860's. Martindale-Hubbell has rated Mr. McMillen "AV Preeminent – 5.0 out of 5.″ This is the highest rating given and according to Martindale, this certification is a testament to the fact that Mr. McMillen's attorney peers consider him to have achieved the highest level of professional excellence, and also as having very high ethical standards.
HIGHEST RATING BY AVVO
In rating lawyers Avvo uses a model that considers a lawyer's years in practice, absence of disciplinary history, professional achievements and industry recognition, which are all factors that are highly relevant to assessing a lawyer's qualifications. Mr. McMillen has achieved an Avvo rating of "Superb – 10 out of 10.″ This also is the highest score given. In the Avvo system all lawyers are rated by the exact same standards using a mathematical model to insure that the rating system is completely unbiased. As with the Martindale-Hubbell ratings, there is no rating favoritism and lawyers cannot pay to be rated, or pay to improve their rating.
PROFESSIONAL ACTIVITIES
Throughout his lengthy career Mr. McMillen has been highly active in community and professional organizations. He has financially supported and served on the boards of many charitable and community arts organizations. He is has been a member of the Board of Directors of The Florida Justice Association, which is the large statewide organization of trial lawyers in Florida (formerly called The Academy of Florida Trial Lawyers). He has twice served as Chairman of the Florida Justice Association's Medical Malpractice Committee. He has been elected by his peers to serve as the President of the Central Florida Trial Lawyers Association, President of the Orange County Bar Association, President of the Orange County Legal Aid Society, and as a Governor of the Florida Bar Association (the statewide organization that includes every licensed lawyer in the State of Florida).
Along with his attorney daughter, Allison McMillen, he currently serves as the author of the medical malpractice law column in the Journal of the Florida Justice Association which is published monthly and distributed to attorneys statewide, and together they co-authored a chapter in the Florida Medical Malpractice Handbook, Second Edition, published by The Florida Bar Association in 2009. Other important malpractice publications include "The Overlooked Emergency Room Cause of Action" Vol. LXXI, No. 10 The Florida Bar Journal (Nov. 1997), and "The Medical Malpractice Statute of Limitations" Vol. LXX, No. 2 The Florida Bar Journal (Feb. 1996).





To learn more about attorney Allison C. McMillen, please click on her name.

We also have a special "Of Counsel" relationship with attorney David Paul, of the law firm Paul & Perkins, P.A. What this means is that in some or our significant cases David Paul may assist our firm. Mr. Paul also has substantial experience handling cases involving medical malpractice and serious automobile and motorcycle accidents, truck accidents, defective products, and nursing home abuse. If Mr. Paul works with our firm on your case, it will be at no additional attorney fees or expenses for you.

Other Firm Web Sites Related to Malpractice

ORLANDO
608 E. Central Blvd.
Orlando, Florida 32801
Phone: (407) 843-0126
Toll Free: 1-800-974-4929 info@floridamalpractice.com

TAMPA BAY
2202 North West Shore Blvd.
Suite 200
Tampa, Florida 33607
Phone: 813-639-7644
Toll Free: 1-800-974-4929

KISSIMMEE
1101 Miranda Lane
Suite 131
Kissimmee, FL 34741
Phone: 407-8430126
Toll Free: 1-800-974-4929

JACKSONVILLE
10151 Deerwood Park Blvd.
Bld. 200, Suite 250
Jacksonville, Florida 32256
Phone: 904-371-3518
Toll Free: 1-800-974-4929
ATLANTA
1230 Peachtree Street, NE
19th Floor
Atlanta, GA 30309
Phone: 404-942-3800
Toll Free: 1-800-974-4929

Our firm started in Orlando and our main office is still there, but for many years we have handled cases throughout Florida and the Southeastern United States. To serve our clients better we have opened additional satellite offices in several major cities. When advantageous to you, we will also associate with other law firms in some areas to serve you better. Any such association would be at no additional attorney fees or expenses charged to you. By reading the information on this site you do not establish an attorney-client relationship with us. Laws keep changing and statutes of limitations keep counting down, so if you think you may have a case you should promptly contact our firm or another experienced medical malpractice lawyer and protect your rights.
Copyright 1997-2017 - McMillen Law Firm, A Professional Association